A streaming platform and marketplace specifically focused on music created with AI tools, called Musixy.ai, is set to launch with an aim to bring legitimacy to the burgeoning—but divisive—scene.
The service will let creators to upload their own AI-generated tracks to the platform, while the company behind it has also worked with producers to create their own songs. Early samplings on the website ahead of the full streaming service launch point primarily to cover songs featuring unexpected—but familiar-sounding—singers thanks to AI trickery.
These include a faux Donald Trump-sung cover of Billy Joel's "We Didn't Start the Fire" featuring boasts from the ex-president, and a version of Marilyn Monroe's iconic "Happy Birthday Mr. President" that uses AI-generated vocals created to sound like Billie Eilish. There's also a wide array of examples of an AI-generated Kanye West singing hit songs, such as the Plain White Ts' "Hey There Delilah" (below).
Creators will receive money every time their track is streamed, Musixy.ai says, offering a subscription to its library for users for $4.90 a month. But the service will also allow fans to buy and sell rights to the AI tracks via NFTs. However, the platform is still working on an export function to Ethereum, Solana, Avalanche, Fantom, and Polygon, and has yet to confirm which, if any, blockchain will support these NFTs.
Musixy.ai says it will also take requests from users. For $29, fans can request an AI-generated cover song, while $999 will get users a "newly composed song" created by a producer and a series of musicians, with the original vocals then changed into something more recognizable using AI.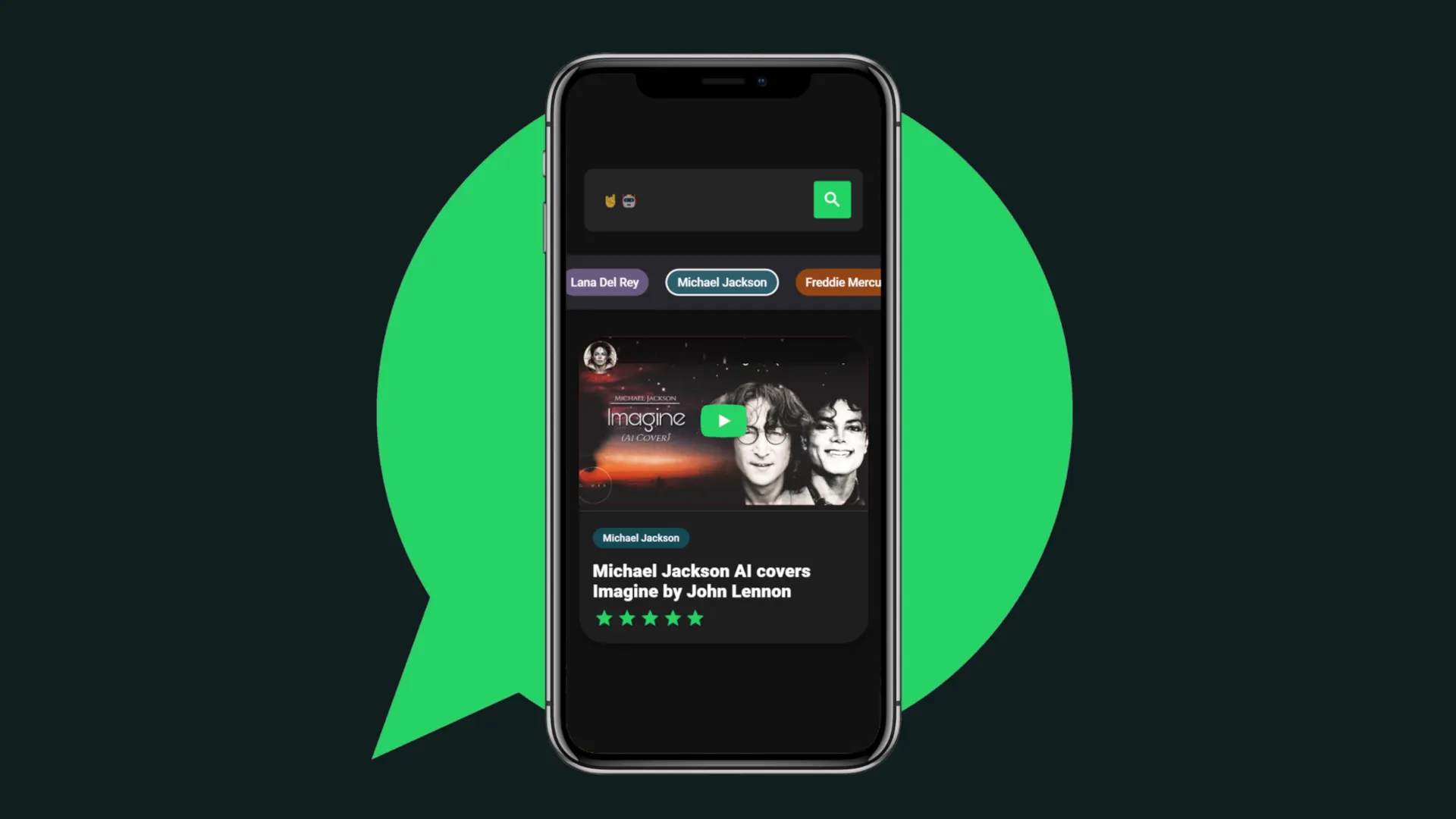 The launch of the service arrives as both artists and the music industry alike wrestle with both the opportunities and challenges of generative AI. In recent months, a number of tracks created with AI-generated vocals of famous singers have gone viral, including a "lost" Oasis album.
In May however, Spotify removed tens of thousands AI-generated tracks after Universal Music claimed bots were being used to artificially boost streaming numbers. Meanwhile, "Heart On My Sleeve," an AI-driven song created to sound like a collaboration between The Weeknd and Drake, racked up millions of streams before being banned from major streaming platforms.
Following this, Recording Academy CEO Harvey Mason Jr. confirmed new rules for the 2024 Grammys. According to the guidelines, "only human creators are eligible to be submitted for consideration for, nominated for, or win a Grammy award"—but AI-assisted music will also be considered. The music will also need to be "widely available," which is where Musixy.ai comes in.
Musixy.ai CEO Dr. Can Ansay told Decrypt that he has written to the Recording Academy, asking it to recognize Musixy.ai as an official streaming platform, but has yet to hear back.
"Worst-case scenario, we will just re-record the songs using imitators. But if listeners love these songs, they should be recognized with awards," he added. "It would give AI-enhanced music and the producers behind it the recognition they deserve. It would also provide much-needed legitimacy."
Whether Musixy.ai gives such AI co-created music "legitimacy" in the eyes of the Recording Academy remains to be seen. And if it can help validate such music amongst listeners, artists, and tastemakers is another question altogether.
Many music fans are skeptical of the artistry of songs created with AI tools rather than purely by humans, and it's unclear whether the average listener will even want to spend money to listen to fake covers and other songs created either predominantly by or with the assistance of AI.
Even so, Ansay is betting that there will be interest. He noted the popularity of cover songs created by humans, and suggested that AI is just another tool in bringing such renditions to life.
"The AI revolution means that anyone can produce a hit song," said Ansay, before pointing out that Luke Combs' cover of Tracy Chapman's "Fast Car" has spent the past few months near the top of the Billboard 100 Chart. "People love cover versions, but it also shows the lack of creativity in the music industry."
Ansay believes embracing AI technology will improve the quality of music across the board. "There's more to these AI-enhanced songs than hype. I believe there's a long-term market for this music," he added.
He went on to say that one of the benefits of AI music is the ability to publish songs in different languages, increasing the chances for producers to have a hit song—and avoid the costly expense of human localization. Creators can also use AI vocals to make it seem like famous artists are singing about political or social issues they'd otherwise avoid, he suggested.
As for the sticky situation of legality, Ansay—who was previously an attorney—told Decrypt, "It is and will also be legal to use and monetize the AI vocals of famous people at will, as long as you don't use their names or mark the tracks as 'unofficial.'"
He claimed that reports saying creators need permission from the original artist are "fake news," allegedly created by record labels who are "scared" of platforms like Musixy.ai making them obsolete.
"If you don't use their name, there's no way this can ever be banned—or else it would mean any singer with a similar voice to an established singer would not be allowed to sing," Ansay added.
However, Recording Academy CEO Mason Jr. said that "Heart On My Sleeve" wasn't eligible for a Grammy because "the vocals were not legally obtained [and] the vocals were not cleared by the label or the artists." But the subject of awards eligibility is not itself a legal concern.
Ansay went on to say that creators are allowed to make cover versions of songs "without the permission of the rights holder or the artist," as long as they pay royalties. "We want to make everyone happy," he added.
In the future, Anslay can see record labels working with Musixy.ai to share original music, but he's currently more interested in creating a library of the best AI-enhanced music in the world. He's also toyed with the idea of creating an AI pop star for livestreamed performances. The platform also currently offers celebrity-inspired AI chatbots, with unofficial versions of Selena Gomez, Tina Turner, and Bob Marley able to give advice on lyrics.
It comes as musicians like Grimes and Avenged Sevenfold singer M. Shadows have said they're OK with their voices being replicated and remixed by AI. Last month, Limewire announced plans for a decentralized generative AI creator suite with a range of tools designed to "empower newcomers to start their creative journey" and help experienced creators too.
Ultimately, it's that pairing of human artistry and ingenuity with AI assistance that Ansay believes will appeal to listeners, more so than purely AI-generated creations.
"These AI-enhanced songs still have a real human singing the lyrics, it's just that their vocals were replaced. The original feeling and emotion still comes across," added Ansay. "If producers use AI to generate the lyrics, the melody, and the vocals, that's when it sounds robotic—and that's what people have a problem with."