"Wait, so it's a metaverse thing? Fuck me!"
So exclaimed a member of The Ned—an exclusive hotel with an annual fee of £3,465—to the door host before stumbling into a private bar opposite. I'm not sure if he was excited by the prospect of a metaverse rave or offended by it. I wasn't sure either.
Behind the doorman was a bank vault with the door swung open, as the thudding of techno leaked into the lobby. I soon entered a room lined with steel deposit boxes; this place used to be a real bank years before Soho House founder Nick Jones bought it in 2012.
The first room was a dimly lit lounge area with not much going on. The main room was equally as dark, but populated with people standing in twos and threes engaged in business talk—not to mention furniture that cost more than my net worth, as well as a sizable screen. Servers slung glasses of rum punch, perhaps trying to ease us into the mood for what we were about to see.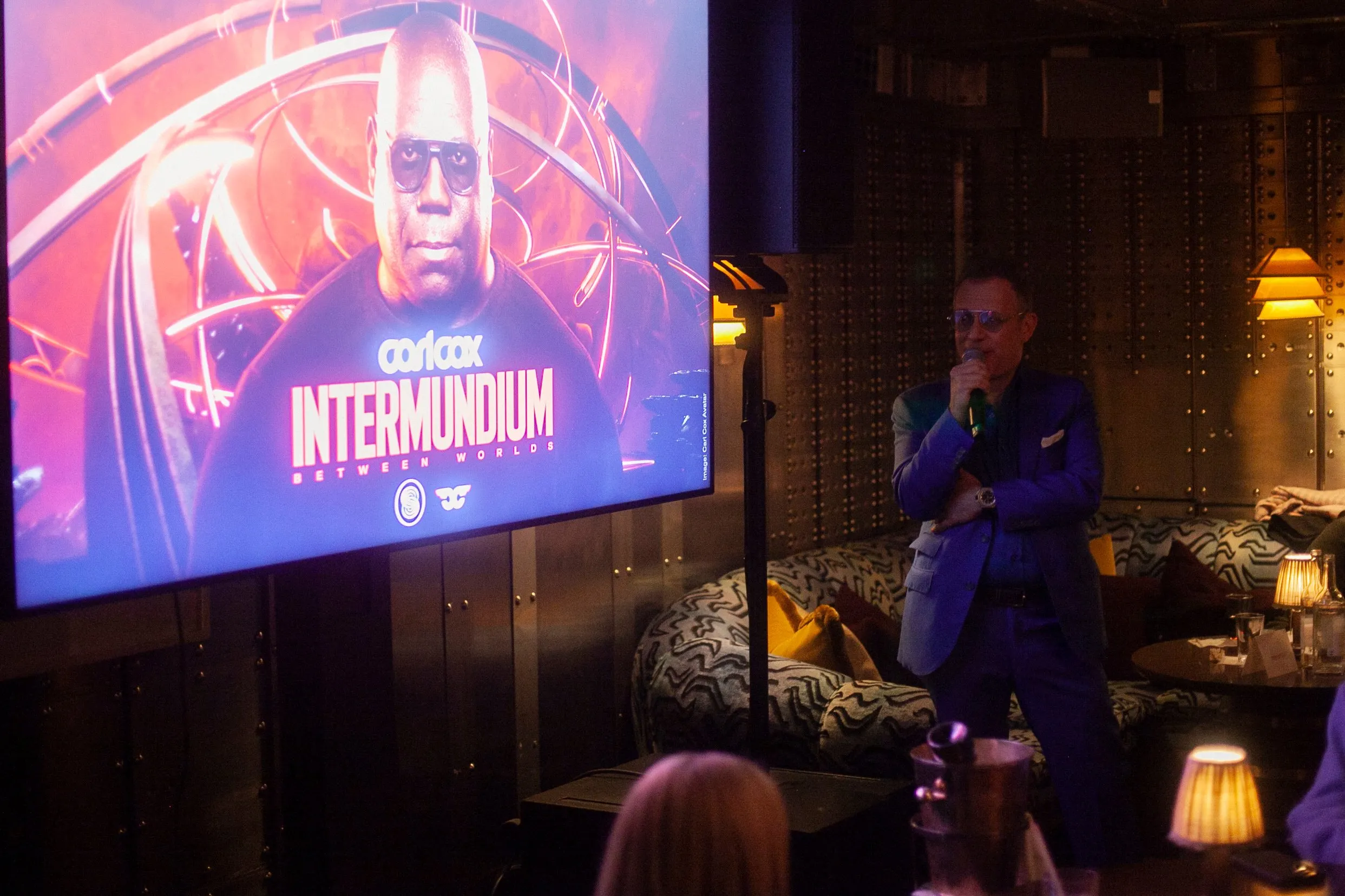 We were in the heart of London to experience a preview of influential DJ Carl Cox's virtual reality debut. Dubbed "Intermundium: Between Worlds," the digital event is set to take place October 27 in a metaverse world called the Sensorium Galaxy. Later, I'd get a peek into what this space will look like, experience the headsets, and speak to those behind the project.
The deeper I looked into Cox's piercing eyes on the massive screen, the more I started to think it might not be a photo. "That's definitely a photo," my partner assured me. I wasn't so sure, especially since it was less than 24 hours after I'd seen Mark Zuckerberg's latest development in his metaverse product—his lifelike avatars had opened my mind.
I glanced around the room, where the crowd consisted of businessmen dressed in suits, developers in zip-up hoodies, and music industry people with welcomed flair in their outfits. We took a seat next to a guy dressed in a fur coat and impractical sunglasses (given the darkened conditions), as well as a national radio host.
"I'm here to see if this is really the future," the host said, while taking some caviar from a server. "I want to know if I'd ever actually go to something like this."
Personally, I wanted to see if this really was a step forward in terms of metaverse music performances. The Travis Scott event in Fortnite in 2020 broke records with 12.3 million gamers watching the event together in real time, as a towering rendition of the popular rapper performed around the vibrant game world.
Clearly, there is demand for metaverse performances—or at least there was during the height of the pandemic, as people desperately sought communal entertainment. It was a groundbreaking moment, but one that hasn't been matched in hype or scale since.
I wondered if similar ground would be broken by Cox, the storied English house and techno DJ with a decades-long career pumping up real clubs around the world. Adding a VR element could potentially be the hammer that cracks new ground—but if what I saw on the screen in front of me wasn't a photograph, then I'll have found the tool to make it so.
Cox's manager Alon Shulman joined Sensorium's Franck Sebastien, each grabbing a mic to begin the presentation to a crowd of 50 people, rum punch and lobster in hand. "Intermundium" had been three years in the making, they said, originating during the pandemic ahead of its coming debut on 2D screens and in VR. Cox himself showed up at a similar preview event in New York City, while the London crowd simply got a pre-recorded video from the electronic musician.
Before heading to the preview, Sebastien confirmed my suspicions that the photorealistic image of Cox was in fact not a photo—it was an avatar the whole time. A few gasps were heard, a polite clap began, and our new fur-clad friend threw himself back in his chair with his hand over his mouth. I smugly nudged my partner.
From London to NYC and into PRISM's virtual world: a journey with a view. A sneak peek from our preview event with @Carl_Cox yesterday. We're excited to share more details on Tuesday! pic.twitter.com/cXRdN0QPj3

— Sensorium Galaxy (@SensoriumGalaxy) September 30, 2023
Bass-filled kicks emerged as the preview began. Cox's avatar appeared, but it didn't look quite the same as before. Rather than being a mind-blowing breakthrough in tech, it just felt like a PlayStation 4 game—not bad, but certainly not as impressive.
Cox was at the center of Prism, a lava-filled stage in the Sensorium Galaxy populated with dancing magma avatars revealed as the camera flew through the world.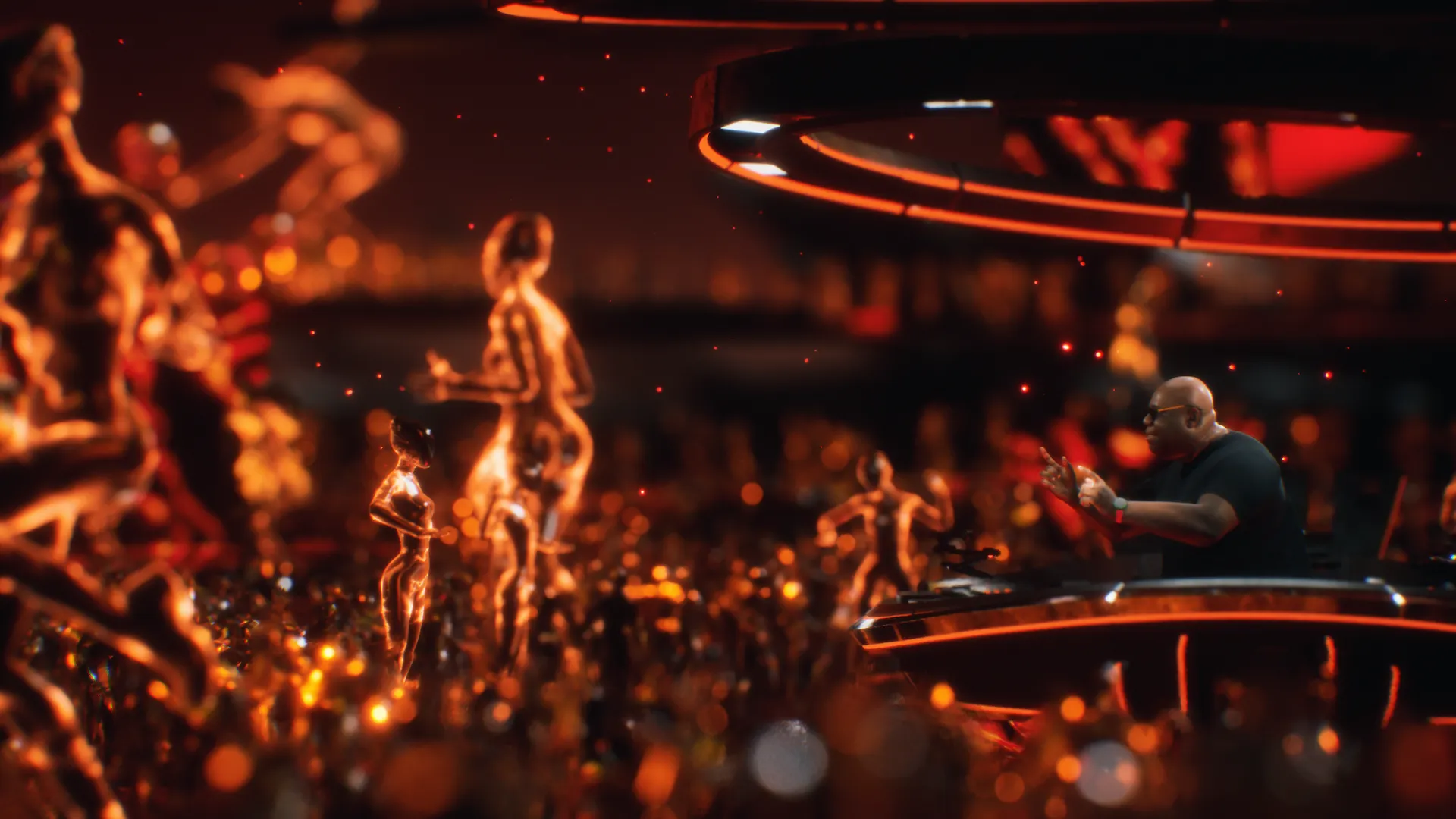 Around the DJ booth were a number of circular platforms where the silver and red magma figures danced. Some were larger than others, slowly and sensually moving to the hellish soundscape that Cox presented—the volcano rave suddenly felt sexy. Other revelers, dressed as colorful metaverse-style avatars rather than lava people, danced to the music more naturally by throwing shapes.
Rocks of obsidian floated and slowly decayed in the air as red and white lasers flashed across the world. Cox, still in the center of it all, looked around and took in the world that he was apparently orchestrating with his thumping beats.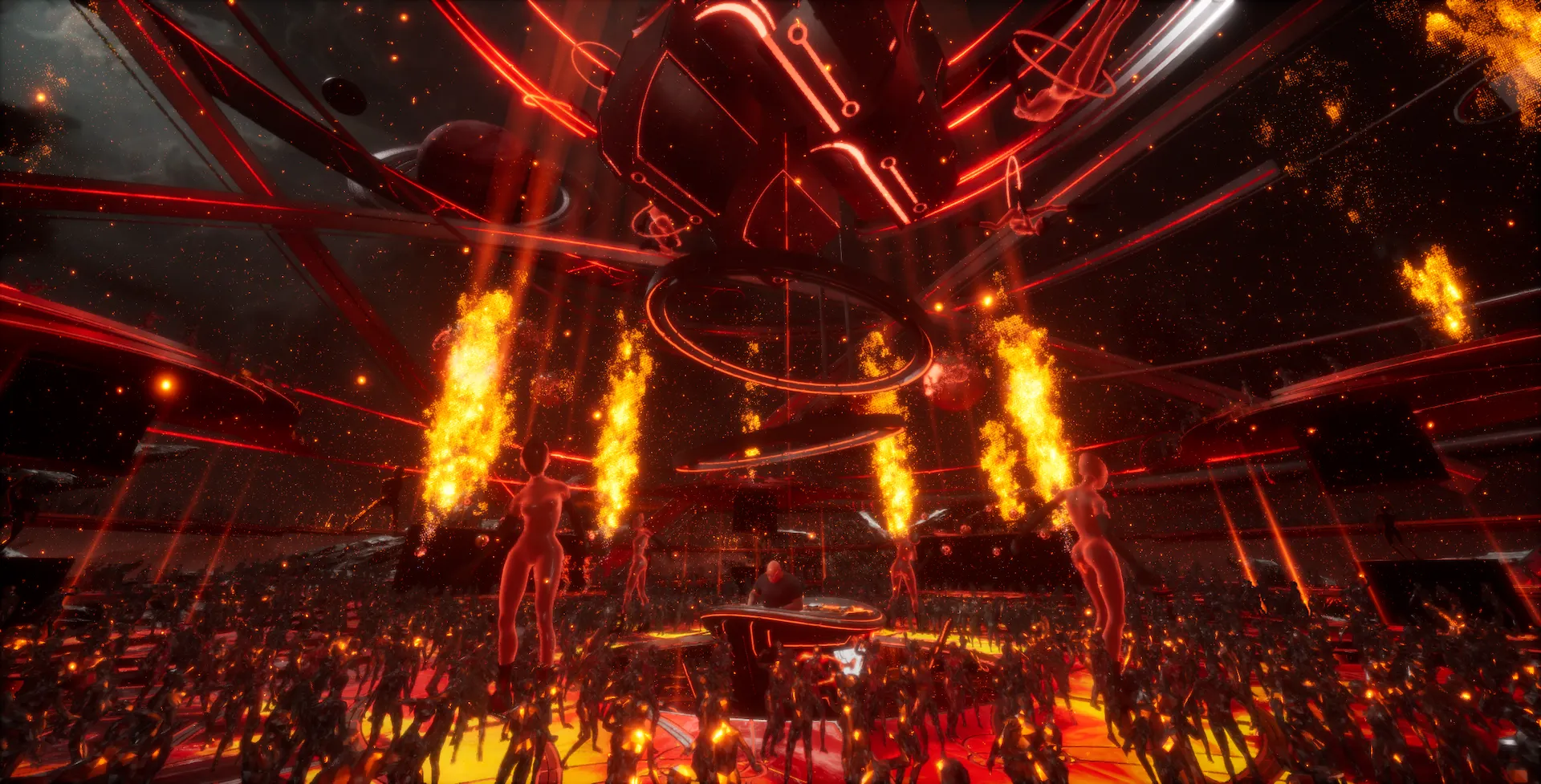 The show ran for 30 minutes. Cox's completely original DJ set was fitting for the world he found himself in, diving into darker pockets with a tinge of "The Matrix" influence. It curated to provide an apt vibe for the metaverse, his collaborators said.
I leaned back over to the radio host and asked what she thought of it. "I'm just not sure I'd want to go there. This type of music is about the social event," she said, as her fur-coated friend waved over a platter of mini-burgers. "It's about dancing with your friends and having fun together. I'm not sure that's possible here."
I completely agreed. Even us sitting here, we can't fully appreciate what the experience would be like to view alone. Live music, dance music especially, is about the connection with your friends as you experience something together—mimicking each other's silly dance moves, rambling about how much you love each other, and hurting together the next morning in the Airbnb kitchen.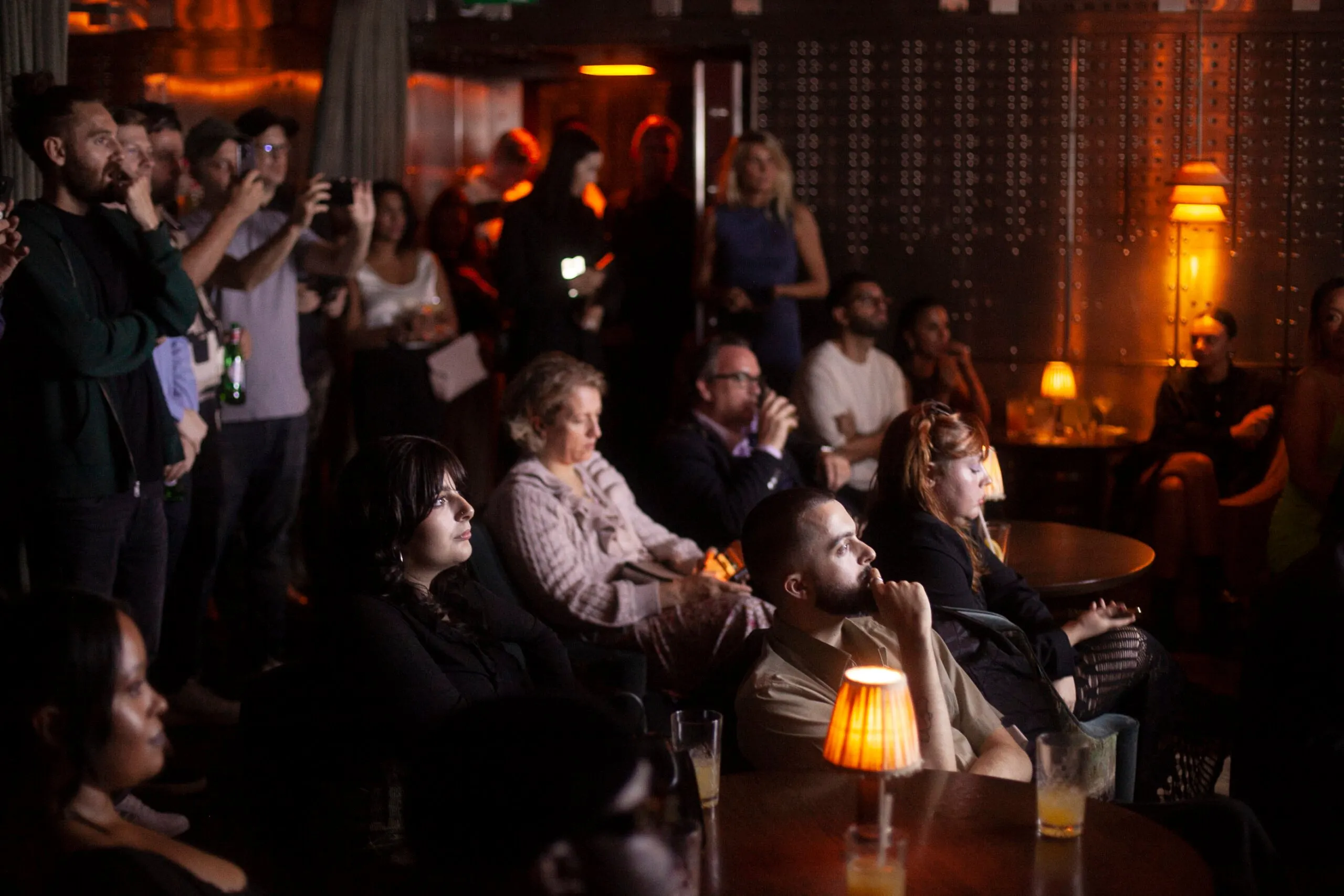 But this kind of venue makes sense for a social gathering. Just like a group of friends may congregate for a sporting event, why not a metaverse music event? Whether they're mates you see regularly or rarely at all, the metaverse isn't restricted by physical bounds. Sebastien and Shulman assured me that you'll be able to connect with friends inside the galaxy, too.
I expected to get a feel for this later on when I wore the VR headset, but I was disappointed to find that I was automatically flying through the air—as in the 2D preview. I only had the freedom of looking around… which had little benefit as most things were happening in one direction.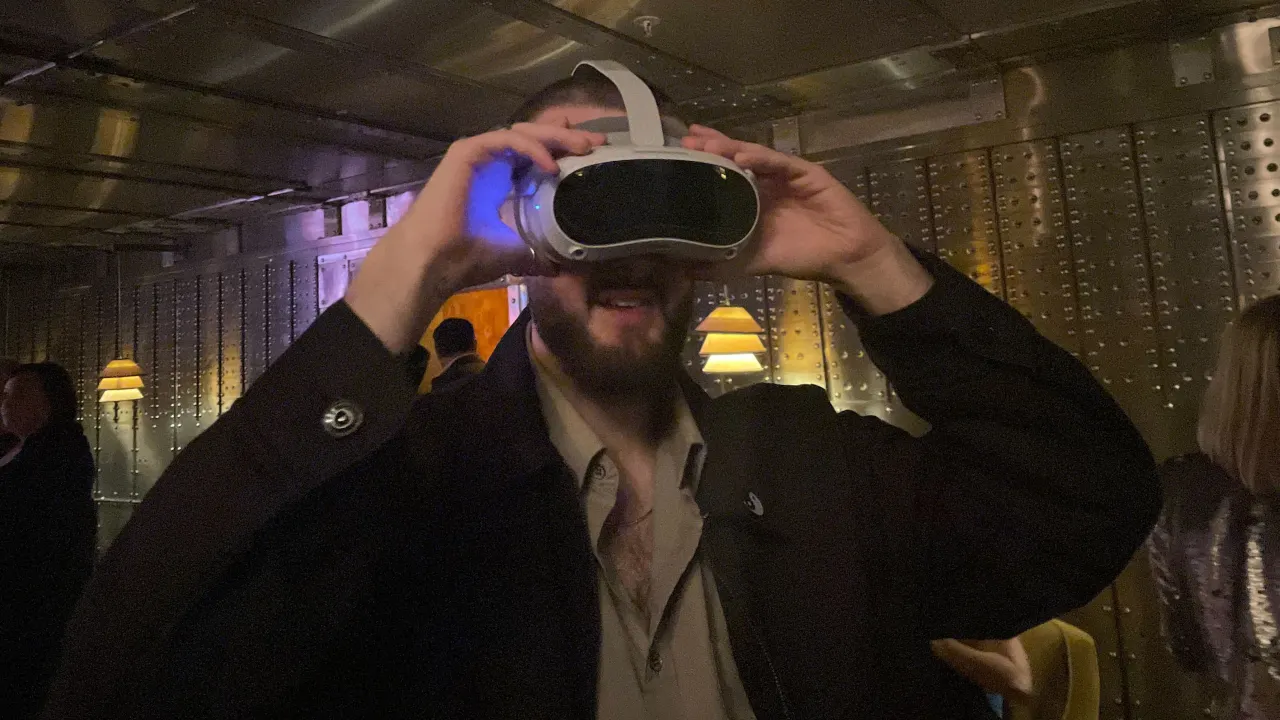 If I can be placed down as an avatar and dynamically move my way through the dance floor while interacting with friends and other partygoers—as apparently promised—then this experience could be a lot of fun. But I wasn't shown that.
AI-fueled dancing
As Cox's set continued, the world around him evolved. Large figures grew and started beating drumsticks on a forcefield around Prism, which sent magma waves rippling across the sky.
While Cox had been motion-captured to create his uncanny avatar, the dancers and the world around him were AI-generated. This means that Sensorium can allow DJs to perform live with the dancers reacting dynamically to what happens. Call it an old-school media player visualizer on steroids, but I still wasn't convinced that it could replace the thrill of a live event.
Shulman broke into a story about the last time Cox performed in the exact room we were in. He told us it was electric, that sweat was dripping from the roof, and that's what made it brilliant—it was real. The Sensorium Galaxy is not that, but they quickly insisted it's not trying to be that.
Instead, it's a cheaper alternative to buying rave tickets, traveling, paying for a hotel, and drinks. For Sensorium, all you need is a suitable computer and perhaps your drink or drug of choice. It's a new and cheaper way to experience "live" music from wherever you are, but real-world concerts and DJ sets will continue to exist. And Shulman explained that Cox wanted to do this to be a trailblazer—to be the first to do this rather than the best.
"Eventually, this will look like a Charlie Chaplin movie," Shulman confessed.
But Cox doesn't mind, the manager claimed. Instead, the DJ would rather be the one who inspires the next generation to take things up a notch.
"It's always been about breaking down doors," Shulman told us. "[Carl] is going to go for it. He's going to open those doors. And we know that the people that follow are going to do bigger shows, better shows, more exciting shows. But it's because Carl is going to pave the way."
While I left the event feeling slightly short-changed after the first sighting of Cox's avatar, I did leave feeling like this could be a big moment for the metaverse. We haven't seen a large dance act embrace the metaverse outside of Fortnite. If all their promises pan out, then Sensorium Galaxy is set to provide a space for artists to host compelling events that anyone around the world can bust a move to—glow sticks optional. And Prism is just one of many locales, all with AI-powered dancers.
Was Carl Cox's VR debut the groundbreaking moment the metaverse has been calling for? Perhaps not, at least from what I saw and experienced. But it could be a catalyst that inspires new ground to be broken thereafter; a meaningful step forward in virtual carousing.