Startup StandApp has announced that it will soon launch sMiles, an app based on Bitcoin's Lightning Network that will allow users to earn cryptocurrency for performing simple everyday activities such as walking, running, biking, playing games or watching videos.
Igor Berezovsky, the project's lead and co-founder as well as the CEO of Shape—the company behind one of the earlier instant messaging apps IM+—told Decrypt that sMiles aims to promote the mass adoption of Bitcoin, or "hyperbitcoinization," simultaneously making people "healthier, wealthier, and happier."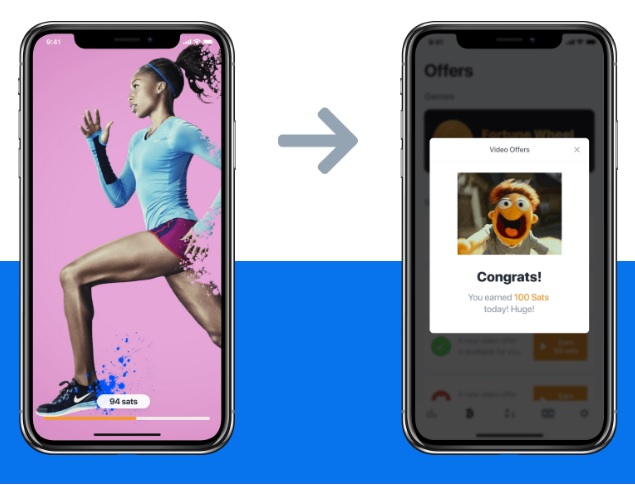 sMiles will pay you crypto for just walking or running. Image: sMiles
"sMiles stands for sats&miles. The app is for everyone—not just for people who already know what Bitcoin is. Besides the end-user app, we also have a powerful scalable Lightning backend that we want to offer to app partners who are interested in micro-incentives for their users," Berezovsky said.
Satoshis—or "sats"—are currently the smallest unit of Bitcoin, each representing a one-hundred-millionth of a single BTC.
To measure the distances people travel, sMiles will use smartphones' GPS location service. According to Berezovsky, users will get satoshis even for driving, although not as much as for walking since the app wants to promote a healthy lifestyle. Users will also receive initial rewards for giving the app various permissions such as access to geolocation and notifications.
All accumulated crypto may then be freely transferred to any external Lightning-wallet. Additionally, no registration is required unless you'll want to withdraw more than 10,000 satoshis.
"There is no obligation to register a real user name at sMiles. We are absolutely committed to privacy and security of usage," Berezovsky added.
He also noted that while sMiles is currently funded "by family and friends, with no institutional funding," the startup already plans to work with health insurers, advertisers and other partners in the future and is currently "in talks with several game providers who are interested in sMiles backend."
After the launch of sMiles, the startup also plans to integrate somewhat similar functionality into the IM+ cross-platform app.
"Of course there is a plan that IM+ will use sMiles' backend. My vision is that people should earn Bitcoin not only for steps. In the case of IM+ people should finally earn Bitcoin for using social networks, messengers and for browsing," Berezovsky added.
Currently, the developers accept applications for closed public testing of sMiles. The app will be available for both iOS and Android operating systems as well as Apple Watch. The full launch is scheduled for "the days around" the next Bitcoin halving that will occur mid-May.
Have a news tip or inside information on a crypto, blockchain, or Web3 project? Email us at:
tips@decrypt.co
.
Get the best of Decrypt where you want it most.