In brief
Bright Star Studio has raised new funding for its upcoming Ethereum play-to-earn game, Ember Sword.
The round includes an array of video game and esports veterans, two of which will also advise on development.
Virtual land sales are booming lately following Facebook's metaverse push, but upcoming Ethereum-based fantasy game Ember Sword made a big statement even before the recent hype. The game sold more than $200 million worth of NFT land in July—and now its developer has raised new funding and recruited veteran game industry talent to deliver on its aims.
Last week, developer Bright Star Studio announced an investment round led by BITKRAFT Ventures that brings a number of veteran gaming and esports luminaries into the fold as investors—and a pair of them will also work with the team as advisors.
Rob Pardo, former chief creative officer at Blizzard Entertainment and lead designer of the enormously popular World of Warcraft, will serve as an advisor, along with retired esports player Dennis "Thresh" Fong, widely known as the first professional competitive gamer.
Ember Sword is also a massively multiplayer online role-playing game (MMORPG), like Blizzard's genre-defining World of Warcraft before it, so Pardo could be a major addition to the team. It may also serve as a stamp of approval for traditional video game players, some of whom are vocally opposed to crypto games and NFTs.
Bright Star Studio founder and CEO Mark Laursen told Decrypt that Pardo will advise Ember Sword's play-to-earn game design and ongoing development, and potentially help with talent recruitment as well. "He really liked where Ember Sword was going and the potential for this, and what we can do for moving the gaming industry forward," said Laursen.
Meanwhile, he believes that Fong—also a longtime startup founder and investor—can help Bright Star make the transition from a startup to a major studio. Ember Sword will also feature competitive gameplay, which could make it a viable esports title, much in the way that leading Ethereum game Axie Infinity has spawned an esports scene.
Beyond those two advisors, Bright Star has also added a number of notable gaming and esports industry players as investors, including Twitch co-founder Kevin Lin, G2 Esports co-founder and CEO Carlos Rodriguez, popular video game streamer Dr. DisRespect, YouTube Gaming head Ryan Wyatt, and The Sandbox co-founder and COO Sebastien Borget.
Bright Star and BITKRAFT did not disclose the round's funding amount. Laursen said that the round's aim was "quite strategic" in focusing on notable game industry leaders, who can support the team and potentially advocate for the game. The studio's previous $2 million funding round in May focused on investment and VC firms.
Digital land sales in metaverse-style games like The Sandbox and Decentraland have accelerated recently following Facebook's recent metaverse unveiling, which included rebranding its parent company to Meta. In a single week in late November, collectors purchased more than $100 million worth of digital land across various games, per data from DappRadar.
As in those other metaverse games, Ember Sword players can purchase digital plots of land that are part of the game world, enabling them to customize and even monetize the space. Land owners will be able to profit from trading fees and earn the game's Ethereum-based Ember token. Each plot is sold as an NFT, which acts like a deed of ownership for a digital item.
Ember Sword's big land sale took place in July, before the recent surge in metaverse demand, when more than 35,000 players collectively spent more than $203 million to purchase NFT land.
Laursen said his team was surprised by the enormous sum generated by the land sale, but that they had purposely targeted people that they thought would be engaged players rather than NFT-flipping speculators. "We made an effort to really single out the community people, or trainers, or guilds in that regard, instead of singling out speculators or investors," he said.
With new advisors, backers, and funding in its coffers, the Ember Sword team is now focused on delivering a playable experience to its community. Bright Star aims to start rolling out parts of the game to land buyers starting at the end of Q1 2022, and then gradually bring more people in with beta testing periods throughout the year.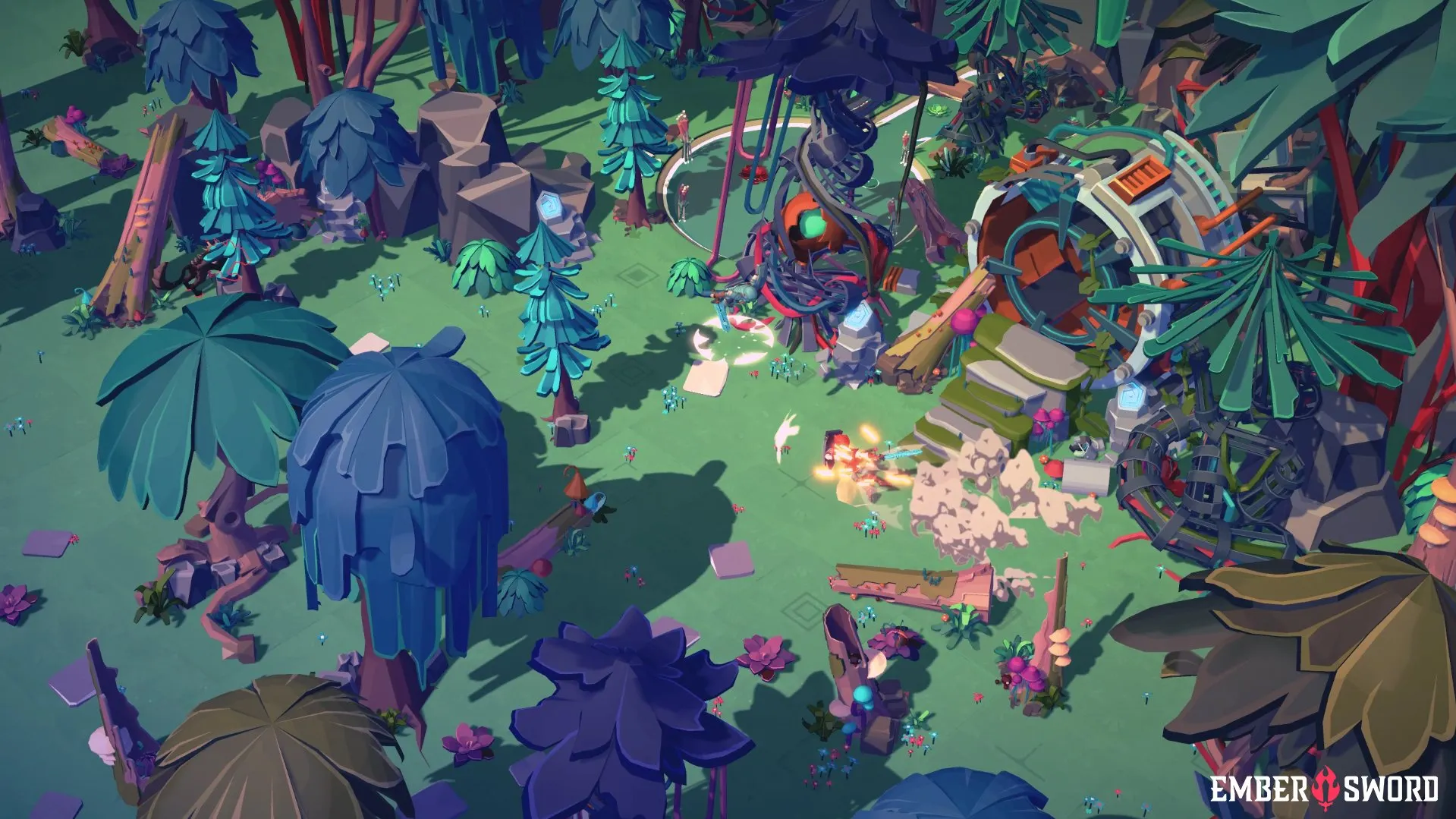 An open beta will follow at some point as well. Last month, the team announced that it will launch the game on Ethereum layer-2 scaling solution Immutable X rather than rival Polygon.
There's a lot of money pouring into crypto games right now, both from investment firms and NFT buyers, plus major video game publishers like Ubisoft and Square Enix are making moves in the space. Laursen believes that blockchain-based games have the potential to shake up old business models while letting communities and content creators share in a game's success.
"It's a match made in heaven, if you ask me as a game developer," he said of the pairing of crypto and online games. "I think it will change everything."