Venture funding for blockchain companies between July and September 2021 hit an all-time high of $6.5 billion in 339 rounds–and that's in disclosed deals only, according to recent research from Blockdata.
This is the third consecutive record this year, with $3.83 billion and $5.131 billion raised in Q1 and Q2, respectively.
Notably, the latest numbers are almost double the total amount raised throughout all of 2020, when VC funds invested $3.8 billion in crypto companies.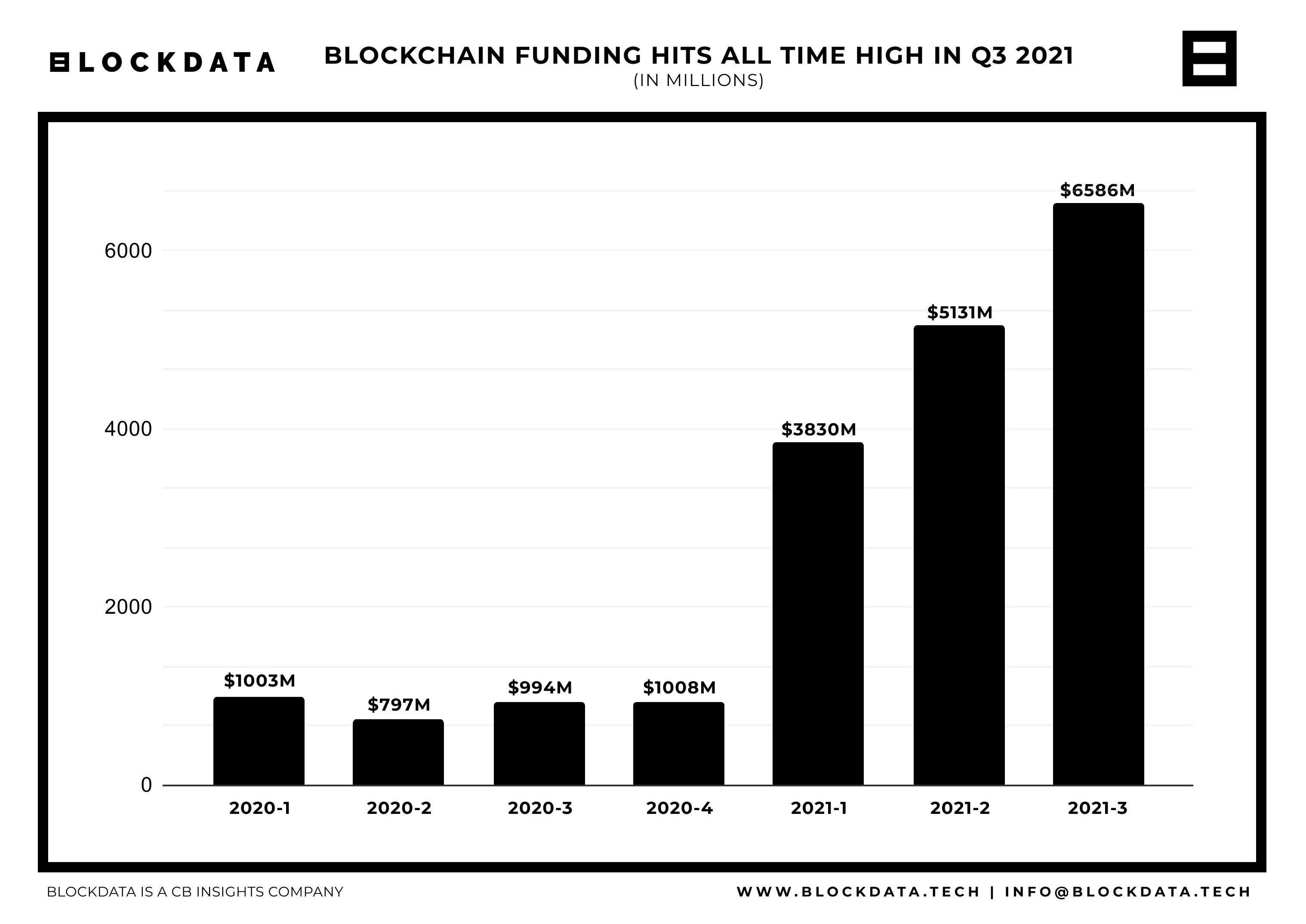 With so much money pouring into the industry, who were the biggest winners?
1. FTX – $900 million
Helmed by 29-year-old billionaire Sam Bankman-Fried, crypto exchange FTX closed a whopping $900 million Series B funding round in July, which brought the company's valuation to $18 billion.
Over 60 investors, including Sequoia Capital, Paradigm, and Coinbase Ventures, participated in the biggest round in the industry's history.
As it was reported at the time, the funds were to be used for various mergers and acquisitions. Shortly after, FTX.US, the exchange's U.S. affiliate, announced its plans to acquire LedgerX, a crypto derivatives trading platform regulated by the Commodity Futures Trading Commission (CFTC).
2. Sorare - $680 million
Sorare, a fast-growing fantasy soccer game based on Ethereum NFT cards, raised $680 million in September at a valuation of $4.3 billion. The Series B round was led by Japanese investment conglomerate SoftBank, which previously funded several other crypto companies as well.
Currently, Sorare's NFT game features over 200 licensed soccer clubs, including FC Barcelona, Juventus FC, Paris Saint-Germain FC, and Liverpool FC, as well as players representing the United States' Major League Soccer Players Association.
3. Genesis Digital Assets - $431 million
Genesis Digital Assets–an American Bitcoin mining firm–closed a $431 million funding round led by Paradigm, with participation from New York Digital Investment Group (NYDIG), and FTX among others.
For Genesis Digital, this was the second round in Q3. In July the company raised $125 million from the UK-based investment management firm Kingsway Capital.
Armed with a solid war chest, Genesis Digital is now eyeing an aggressive expansion. The company said that it expected to reach a data center capacity of 1.4 gigawatts by the end of 2023, an eight-fold increase from its capacity in September 2021.
4. Fireblocks - $310 million
Fireblocks, a New York-based company that provides digital asset custody, transfer, and settlement infrastructure for clients including banks and exchanges, raised $310 million in July. The Series D funding was co-led by Sequoia Capital, Stripes, Spark Capital, Coatue, DRW VC and SCB 10X, and brought the firm's valuation to $2 billion.
Prior to that, in March, Fireblocks raised $133 million in Series C, with the firm's major clients SVB Capital and BNY Mellon among the investors.
Despite the capital raised, Fireblocks is in no hurry to go public, with the firm's CEO Michael Shaulov telling Decrypt in August that first "we need an infrastructure that removes the complexities around security, compliance, and operational risk."
5. Bitpanda - $263 million
One more entrant to the coveted unicorn club is Bitpanda, the leading crypto trading platform in Europe.
In August the Austria-based firm announced a new $263 million raise, led by Peter Thiel's Valar Ventures. The Series C round gave Bitpanda a valuation of $4.1 billion—more than three times compared to what it was valued after a $170 million raise in March this year.
Bitpanda plans to use the fresh capital to expand its B2B presence among banks and fintech companies, as well as to enter new markets in Europe.
Other notable raises over the course of Q3 included Dapper Labs ($250 million), FalconX ($210 million), Blockstream ($210 million), Mercado Bitcoin ($200 million), and Blockdaemon ($155 million).
This quarter's most active crypto investors
As for the most active investors that participated in funding rounds in Q3 2021, the report points to Coinbase Ventures, which was involved in a total of 18 deals.
The researchers note that it was "interesting to see that Coinbase Ventures invested in FTX Exchange and CoinDCX, both cryptocurrency exchanges like Coinbase."
According to the report, "a potential reason for this could be that Coinbase considers FTX and CoinDCX to be serving a different type of customer than their own."
This could mean that the San Francisco-based exchange "could be spreading their risk by investing in other types of cryptocurrency exchanges," argued Blockdata's analysts.
After Coinbase, Animoca Brands and Polychain Capital invested the second- and third-most, totaling 10 and 11 investments, respectively.
A key name missing from the data is, of course, heavyweights Andreessen Horowitz's a16z. "Yes, they are active, however, based off the data we have, not so much in this quarter when it comes to equity funding," Blockdata told Decrypt. "We tend to exclude [token generating events] (as we have from ICOs) which may be revisited in the future."
a16z's latest investment in the crypto space was in CoinSwitch Kuber, a crypto exchange based in India.