In brief
Blockchain-driven RPG Nine Chronicles announced its early release on the mainnet last week.
The game, backed by Ubisoft, is selling out its daily allotments of native tokens, said co-creator Kijun Seo.
The game calls on users to help create the world.
Nine Chronicles, a blockchain-driven decentralized role playing game backed by Ubisoft, announced its early release on the mainnet last week.
The game—one of the first of its kind—is the brainchild of Seoul-based company Planetarium. Nine Chronicles is what's called a MMORPG, or a massive multiplayer online role-playing game. It's a tank of an acronym. But in layman's terms, it means choose-your-own adventure with a touch of fantasy.
Through Nine Chronicles, Planetarium hopes to sow the seeds for a new landscape of user-driven gaming communities.
"A lot of people have been frustrated because these virtual worlds were created by corporations," says Kijun Seo, a founder of Planetarium. "It's created to serve them and to create as much profit as possible." 
"That's not bad on its own," Seo clarified. "But when you have tens of thousands or hundreds of thousands of people, it is possible to self-organize and to mod their software and to build something that the community believes in," he said, referring to the concept of modifying—an elaborate copy-paste that allows users to edit games to their liking without having to rebuild the software from the bottom up.
In one sense, the underlying premise of Nine Chronicles—a game founded on democratic principles—is hardly new. People have been modding games for decades, prying open the backs of Ataris in the 1970s and tweaking downloaded games in the 2010s, in effect creating bubble worlds: little renegade universes, parallel to the originals and yet controlled by the users. In a few instances, modified versions have rivaled the originals.
"There are some interesting examples," said Seo. "World of Warcraft, which is the most popular [massively multiplayer online game], released a major patch every year or two years. There was a huge change once called Cataclysm where they basically destroyed the map and created a new world on top of it, which was cool on its own, but a lot of people wanted to stay in the previous world."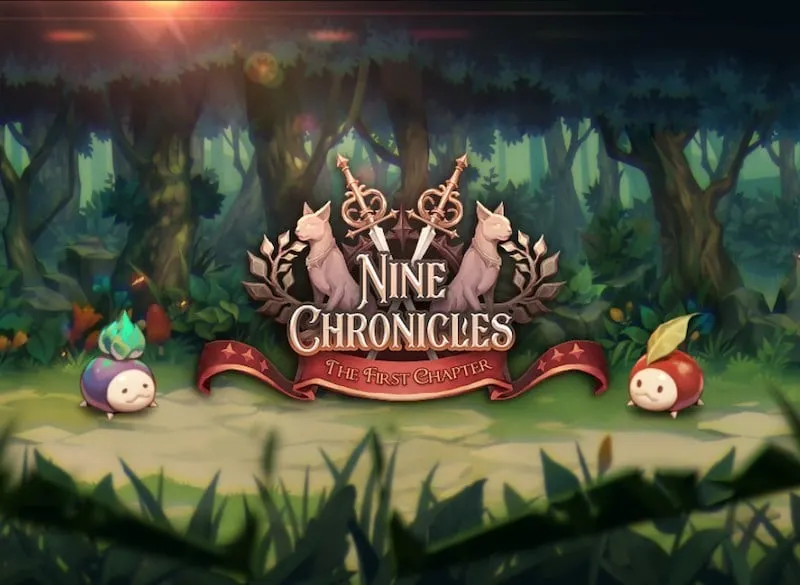 So, quite naturally, users overrode the update. Old maps were restored, and a people's revolution—in gaming form—thumbed its nose at Warcraft's creator, Blizzard Entertainment. Almost a million accounts were made. 
"But Blizzard didn't want that; it's not their subscription base," said Seo. "So they sued and got it shut down and after a few years released their own version of Warcraft Classic, which was actually more successful than the patch they released."
That's not how Nine Chronicles will work.
Blockchain has created an opening for a new dynamic—as it seems to do in every sector it touches—between user and creator, one that more closely mimics a democracy than is currently possible. Forking, or the creation of a new blockchain ledger, might very well be the successor of modding. And in its embrace of the technology, Nine Chronicles represents the vanguard of the movement.
Unlike modding, forking relies on a pre-existing network of nodes that run the game. Planetarium represents just one node, one Christmas light in a tangled bunch. If the creators drop out, the game can continue and evolve. It's the critical mass of users that give it strength, not the parent company. In the old world, modded versions demanded a great deal of server firepower; and even if someone got their hands on it, that person had to keep running the server or else all the data would disappear.
"But what's really interesting and powerful about the blockchain is that anyone can turn their node off, and the game will continue," said Seo. "So you turn on a node, and multiple nodes start connecting to each other. With Nine Chronicles, people can download the game and they can start running the node on their PC. And that would actually connect to all the other PCs that are playing Nine Chronicles. At that point, everyone is a part of the network."
In a very literal way, Nine Chronicles is made by its users.
The game, which was released last Tuesday, sold out of its native token—used to exchange items and interact with some aspects within the game—during its presale. It's no doubt a good litmus test of interest, but Seo is also hesitant to wax poetic about the release. "You run into problems," he said. On the day of the game's scheduled rollout, Planetarium had to delay the release due to technical problems.
During the final maintenance of the mainnet, several configuration errors were found, and the mainnet will be set up from scratch. We will deploy the mainnet client at 9PM KST, not 7PM KST. The opening of the on-going sale is similarly postponed.

— Nine Chronicles (@NineChronicles) October 27, 2020
"But we're back on track," said Seo. "Every day, we're selling a little bit of Nine Chronicles gold. And we've been selling out and selling out our daily allotments. The community has been super positive, and most of the mining is done by the community now. Eighty percent of people who've decided to play have joined the network as a miner."
As for long-term goals, Kijun Seo is eager to let gravity take hold of the game. Once it's out of Planetarium's reach, its real life begins. "We want to build a self-sustainable community within the game itself where players can feel that the contributions they make to the community are their own, because they actually own the game. We're only the initial creators."