The European Parliament has voted through landmark legislation on cryptocurrency which will bring in new rules for the industry across the 27-country bloc. 
Markets in Crypto Assets (MiCA) passed with 517 votes in favor and 38 against, with 18 abstentions, at a meeting in Strasbourg today. 
Crypto firms including Binance, Coinbase and Kraken welcomed the passing of the landmark legislation, while Stefan Berger, the MEP who led the bill's creation, said in an emailed statement that Europe is now the "first continent with comprehensive regulation for crypto assets."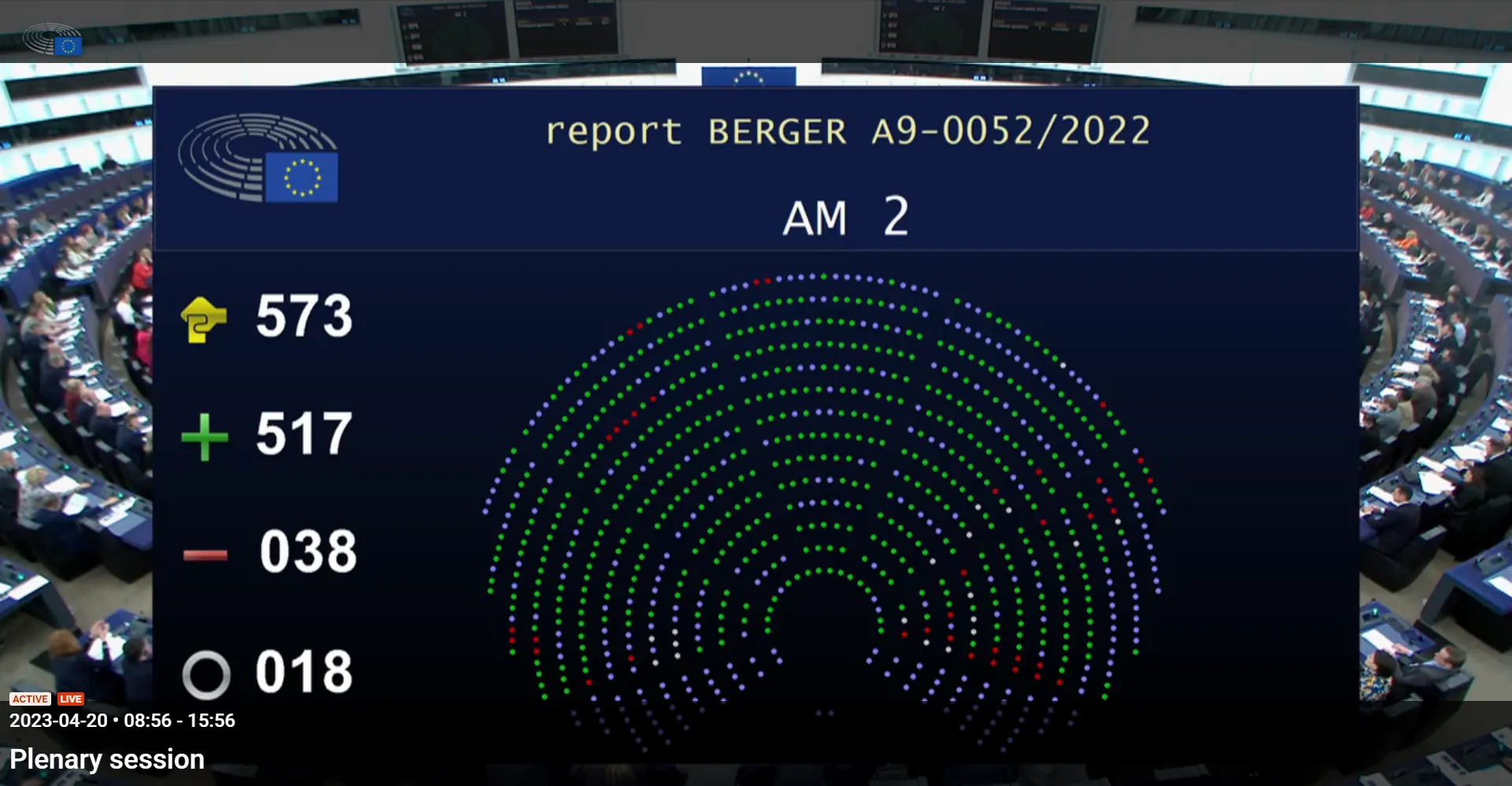 "In order for new coins to be approved in the EU, it must be ensured in future that their business model will not endanger our currency stability," he said, writing in German. "The new supervisory structures will also be a bulwark against Lehman Brothers moments like the crypto exchange FTX."
The MiCA legislation means that the EU will have a unified approach to crypto asset regulation across all 27 member states, making it possible for firms approved in one country to "passport" their business into others with minimal additional paperwork.
But to achieve initial approval, firms will face much higher standards of disclosure, including the preparation of a detailed white paper for each asset offered. Stablecoin issuers, meanwhile, are subject to even tighter rules, including holding sufficient cash to back up customer funds.
MiCA will also ask crypto firms to report the environmental impact of their activities, in a compromise measure after lawmakers removed an all-out ban on the proof-of-work mechanism from an earlier draft.
Europe's crypto industry hails 'pivotal moment'
While concerns have been raised about the possible administrative burden of MiCA on small firms, many crypto companies have welcomed the European Union's recognition of the industry.
"The European Parliament's adoption of MiCA today is a pivotal moment for the crypto industry in the region, and the work of European policymakers should be seen as exemplary," said Tom Duff Gordon, Vice President of International Policy at Coinbase. "The region is recognising the potential and societal promise that emerging technology can provide. The EU is stepping up to the mark, while other notable jurisdictions are struggling to provide a solid, cohesive regulatory framework that gives clarity to a burgeoning innovative industry."
The vote also prompted crypto commentators to contrast the EU's approach with that of other countries.
"Crypto needs a simple but comprehensive legal framework to grow," commented Monty Metzger, founder of Liechtenstein-based exchange LCX, on Twitter. Earlier in the week, he suggested MiCA showed that the U.S. and Asia are "falling behind" on crypto regulation.
"Regulation by enforcement like in the US is not a solution," he added today. "We need rules and guidelines to let technology innovation happen."
Richard Teng, Regional Head of Europe and MENA at Binance, said that the regulatory landscape has "shifted forward" with today's vote.
"MiCA will bring regulatory clarity to one of the largest markets in the world, making the EU, an even more attractive place for Web3 companies to innovate and attract talent," he said.
"As with all regulation, the small details will be key, but overall we believe this is a pragmatic solution to the challenges facing the industry. At Binance, we are putting together clear rules of the game for crypto exchanges to operate in the EU. We will make the necessary changes to our business over the next 12-18 months to fully comply with regulation, protect users and support innovation."
Mark Jennings, Head of European Operations at crypto exchange Kraken, lauded MiCA as a "bespoke and pragmatic blueprint for cryptoassets to evolve within a regulatory perimeter." He added that, "What once seemed a lofty legislative goal could soon become a universal standard for customer protection and business efficiency, if the EU can get the technical implementation of this framework right."
What happens next?
MiCA will not come into effect immediately. Once it has been approved by the European Council, it can be officially made EU law. The EU's securities regulator, the ESMA, will then produce guidance on the details of how the regulation should be applied.
There is some breathing room for both companies and member states to catch up to the regulation, with rules coming into force on stablecoins in July 2024, while other requirements will not be enforced until January 2025.
The Parliament also passed a separate law today, the Transfer of Funds regulation, with 529 in favor, 29 against and 14 abstentions. The regulation will require crypto operators to identify customers in a bid to curb money laundering.